Here is Read Magazine's Weekly Roundup of the top news from global markets. In this fast-paced world, breaking down information helps readers grasp the nuances that follow the news.
In Aerospace news this week…
iRocket Appoints Blake Larson to Board of Directors. On January 20, 2023, the Board of Directors of Innovative Rocket Technologies Inc. (iRocket) has appointed Blake Larson as a director.
In Agritech news this week…
Pyxus Announces New Chief Human Resources Officer.Pyxus International, Inc, a global value-added agricultural company, announced Fernanda Goncalves as its new Senior Vice President and Chief Human Resources Officer.
In Automotive news this week…
Lexus and ChargePoint Elevate RZ 450e Home and Public Charging Experience. When guests purchase an all-new, all-electric RZ 450e crossover from Lexus dealers, they'll be offered several ways to enhance their battery-electric ownership through an elevated charging experience.
In BFSI sector news this week…
Arroyo Invests in Integrated Shore-Side LNG Liquefaction and Bunkering Platform in the U.S. Arroyo Investors, a Houston-based, independent investment manager focused on power and energy infrastructure assets throughout the Americas, announced it has recently closed an investment in Seaside LNG and its affiliated entities (the Company), an integrated shore-side LNG liquefaction and bunkering platform in the U.S.
In Biotechnology news this week…
ADDF Statement on FDA Decision Not to Grant Accelerated Approval to Donanemab for Treatment of Alzheimer's Disease. Drugmaker Eli Lilly & Co announced that the FDA has issued a complete response letter, meaning it has not granted accelerated approval for amyloid-clearing antibody donanemab.
In Chemicals news this week…
Braskem and Nexus Circular Strengthen Relationship Through a Long-Term Contract for Circular Plastic Feedstocks From New Advanced Recycling Facility. Nexus Circular and Braskem S.A, the largest polyolefins producer in the Americas, announced that they have signed a 10-year definitive commercial agreement for the supply of circular feedstocks from a new advanced recycling facility.
In Energy & Power news this week…
Safire Technology Group Expands with a New R&D Laboratory in Knoxville at UT's Spark Innovation Center.Safire Technology Group, Inc, a venture-backed company developing and manufacturing Lithium-ion (Li-ion) battery safety technology, announced its expansion to Knoxville, Tennessee, with the opening of a new laboratory at the University of Tennessee Spark Innovation Center.
In Food & Beverage news this week…
Airrack & Pizza Hut Break GUINNESS WORLD RECORDS™ Title for World's Largest Pizza. Airrack, a popular content creator and YouTube star, and Pizza Hut teamed up to break the GUINNESS WORLD RECORDS title for the World's Largest Pizza on January 18 in Los Angeles, CA.
In Healthcare this week…
CairnSurgical Announces First Patients Treated in Europe With Breast Cancer Locator System. CairnSurgical, Inc., an innovator striving to make breast cancer surgery more precise, announced that the first patients have been treated in its European post market clinical study of the Breast Cancer Locator (BCLTM) System. The successful first cases have been performed at Spital Zollikerberg in Zurich, Switzerland and Santa Chiara Hospital in Pisa, Italy.
Awardco Partners with InHealth Strategies to Offer More Robust Health & Wellness Programs. Awardco announced a partnership with inHealth Strategies to encourage health initiatives within organizations and to incentivize and reward employees for participating in health & wellness programs.
Article of the Week
Top 7 Ways AI In Supply Chain Is Revolutionizing Productivity in 2023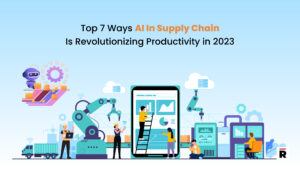 In recent times, AI in the supply chain has proved its potential to multiply efficiencies, improve productivity and allow businesses to gain a competitive edge to lead the market. As digitalization has witnessed a boom, integrated AI in supply chains can assist in accurate and effective inventory management by lowering costs and maximizing output.