In recent times, AI in the supply chain has proved its potential to multiply efficiencies, improve productivity and allow businesses to gain a competitive edge to lead the market. As digitalization has witnessed a boom, integrated AI in supply chains can assist in accurate and effective inventory management by lowering costs and maximizing output. 
In the year 2021, about 146 cargo ships were halted for over 3 months in the U.S.'s two largest ports in Long Beach and Los Angeles. These ships contained billions of dollars worth of merchandise including furniture, clothes, and electronics. This delay was witnessed among retailers who failed to provide customers with goods just before the holiday season in the country. 
As the supply chain in 2023 continues to struggle and face challenges, AI in supply chain has surfaced as a catalyst to streamline processes. Companies can now draw predictive analysis and accurate forecasting for companies when their supply chain management is fueled by AI. This effective integration of AI in supply chain could act as a revolutionizing channel for businesses to enrich the customer experience for their user base. 
How is AI in Supply Chains helping Businesses Improve Productivity?
According to Material Handling & Logistics, it has been estimated that businesses lose close to 6,500 hours every year due to inefficiency. Digital automation by implementing AI in supply chain can assist in optimizing inventory, reducing lead times, and lowering transportation expenses substantially by using real-time data analysis.
For instance, you must have heard that Walmart teamed up with Ford to deliver goods to customers' homes using self-driving vehicles or FedEx introduced SameDay Bot to improve the efficiency of delivery times. These are all examples of the integration of AI in supply chains to improve productivity levels across the globe. Companies are investing their time and resources to enhance, analyze and refine their supply chains with artificial intelligence.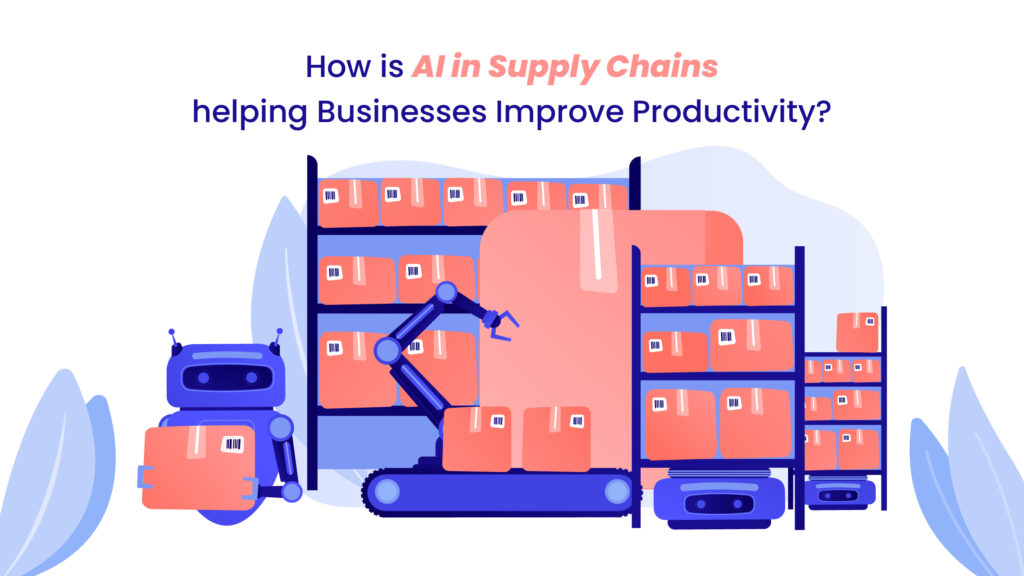 AI-enabled supply chain management offers improved transportation with automation tools to break down complex supply chains. AI in supply chain enables businesses to address inventory management issues and provide dynamic logistic systems to optimize real-time deliveries.
In terms of supply chain analytics, there are majorly four types of analytics namely predictive analytics to mitigate risks, descriptive analytics to provide visibility to internal and external data, prescriptive analytics for supplier relationship management, and cognitive analytics to enhance customer experience.
Top 7 Ways AI In Supply Chain Is Helping Businesses Succeed (With Examples)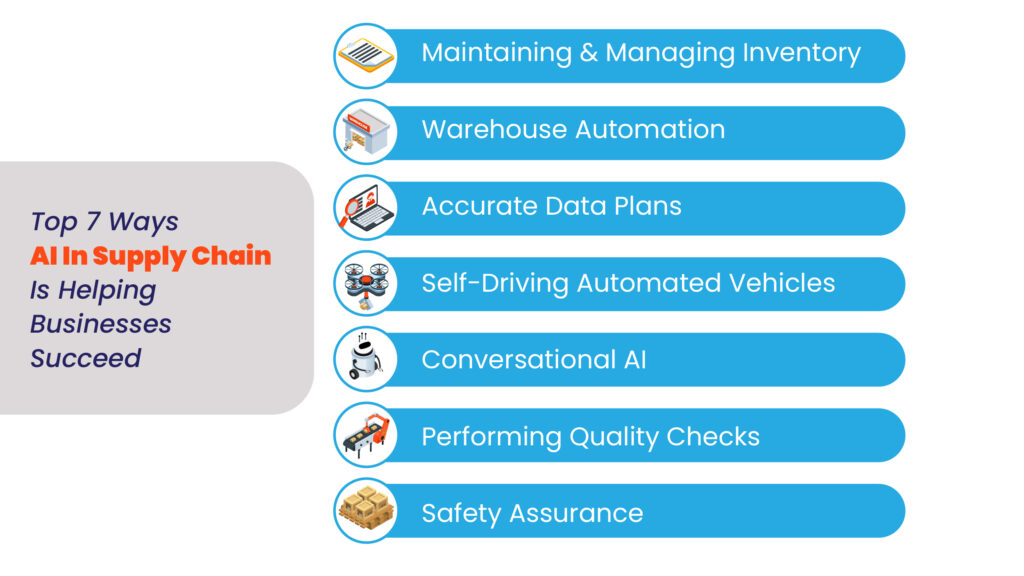 Maintaining & Managing Inventory
The analytics-based machine vision software with AI systems assists in constantly monitoring and managing inventory. This can assist in minimizing standard manual inputs and creating accurate forecasts.
For instance, C3 AI's AI-powered inventory effectively optimizes and manages inventory levels in real-time. This system assists in consistently learning from data from production orders, purchase orders, and supplier deliveries for stocking recommendations. 
Warehouse Automation
AI-enabled technologies such as collaborative robots (cobots) assist in driving efficiency, productivity, and safety with effective warehouse management. Lately, companies have begun using radio-frequency identification (RFID) while warehousing which will replace barcode scanners to improve control and organization of inventory.
Furthermore, since warehouses constantly rely on communication, AI in warehouses can act as an eliminator of inaccuracies and guarantee data on-demand in real-time. For instance, Infor utilizes AI in warehouses to employ advanced algorithms and improve warehouse management and efficiency. 
Accurate Data Plans
AI-powered tools assist in optimizing transportation routes for greener and more sustainable transport logistics. It takes into consideration factors to hinder the transportation processes by analyzing traffic, road closures, and weather conditions.
For instance, DHL created an AI-powered machine that gathers information to predict air freight delays. It analyzes over 58 different data points to aid in getting accurate reasons for delays. 
Self-Driving Automated Vehicles
Automated self-driving vehicles are replacing manual human-driven vehicles to assist in parcel management or surveillance. At this stage, AI integration in automated vehicles has taken a substantial implementation in forklifts as AI-driven vehicles are mostly utilized for inventory management. 
For instance, Walmart, Ford, and Argo AI teamed up to deliver goods to their customers with the help of self-driving vehicles. As of now, automated vehicles are being piloted to check their efficiency and accuracy. 
Conversational AI
AI-powered tools have assisted companies in using conversational AI for communications including sharing invoices with customers, payment reminders, verifications, etc. These conversational AI tools are aimed to improve supplier communication, automate procedures and prevent payment-related errors.
For instance, Robby Technologies has utilized conversational AI in its autonomous vehicles to navigate roads, sidewalks, and pedestrians. This can increase human-machine interaction and help get better results of deliveries or analysis of external factors. 
Performing Quality Checks
AI in factories is aimed at performing automated quality checks for the products even at their production stage. In order to improve the productivity and accuracy of production lines, AI-powered computer vision systems can automate the quality assurance of finished goods and streamline supply chains. 
For instance, BMW utilizes AI in factories of production for quality checks at the time of assembly and at the time of final production to assess the cars before they reach their customer base. This also helps to avoid any mishaps that may occur due to a missing part or improper feature installation. 
Safety Assurance
AI solutions in supply chains help to monitor warehouse environments and analyze operations. This can enable the AI tools to understand, analyze and assess risks. Safety assurance can be integrated by using AI-powered robots that may handle tasks that are risky for a human worker. 
For instance, Nuro's delivery robots introduced R-1 robots to transport products onto cargo ships or trucks, cross sidewalks and climb stairs for making deliveries to customers. These robots are a safe alternative for making deliveries as their structure is compact and slim. 
AI To Be The Saving Grace Amidst Supply Chain Disruptions?  
As we enter 2023, supply chain operations are expected to continuously tackle geopolitical conflicts, inflationary fluctuations, and environmental concerns such as climate change. All these factors hinder the seamless travel of finished goods to the customers. Nonetheless, AI in the supply chain has assisted in forecasting demand and supply to streamline processes between warehouses and end-users. This process has been fueled by AI and will continue as the demand for AI in supply chain goes on rising.
Effective warehouse management through AI-powered tools can optimize stock levels by effectively managing inventory turnover. They enhance safety and reduce operational costs, assisting businesses to manage their products and helping them reach customers with ease. AI in supply chains is integral to reducing dependency on manual efforts and fulfilling commitments.
As AI gets smarter, people get time to focus on activities in their control and optimize their work. With supply chain management getting revolutionized with AI, businesses can use these smart tools to achieve delivery targets and accelerate the pace of their success.